Company Drivers
Our company drivers run proudly alongside our elite fleet of Owner Operators- and earn the opportunity to buy your own truck through our Lease Purchase Program!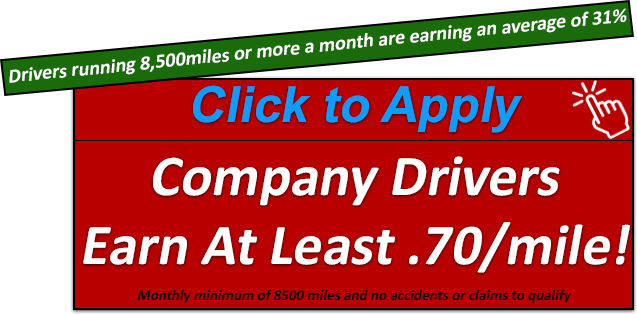 Company Driver Pay
Base Pay: .70cents for all miles, must run a minimum of 8500 miles, no accidents, no cargo claims to qualify.
Payroll: Weekly direct deposit
401K and Profit Sharing: Contribute to a 401k plan and earn a profit sharing Safe Harbor Contribution following 1 full year of service equal to 3% of your wages.
Holiday Pay: $125/ day There are seven paid holidays per calendar year.
Orientation Pay: $250
Benefits
Daily Express Company Drivers get a first class benefit package including:
Medical Plan:
Highmark Blue Shield PPO
Medical/Dental Plan employee pretax contributions
Individual Coverage: $65/week
Two-Party Coverage: $145/week total
Family Coverage: $175/week total
Annual Deductible: $500 per individual (per calendar year) $1000 per family (per calendar year)
Vision Coverage:
$6.81/month Individual, $17.02/month Family
Dental Plan:
Plan pays 100% of covered expenses.
Life Insurance:
Free life insurance coverage equal to one and one half times annual earnings up to a maximum of $75,000. Supplemental coverage is available.
Disability:
Short Term and Long Term
Paid Vacation
Holiday Pay:
You get seven paid holidays per calendar year.
Truck Sale Program
The Daily Express truck sale program was created as a way to give our company drivers an opportunity to realize their dream of becoming an owner operator. The program is set up as a
no-money-down sale
. This is a great opportunity to become an owner operator and small businessman with no initial investment while operating with a company that you know, and a company that will stand behind you. Daily Express offers complete financing and insurance for the truck in one simple package, all done through pay settlements. There is no money down required and no credit check.
Requirements:
One full year of service as a company driver with;
No preventable accidents or major or cargo claims;
Must meet minimum mileage benchmarks.
How it works
Trucks are priced at market value at time of sale and financed at the prime lending rate + 2 points
Total finance amount is limited depending on the year and value of the truck
Trucks are sold fully equipped with tiedown equipment
Sale terms require a mandatory maintenance escrow to plan for repairs and tire replacement
A business analyst will review a profit and loss model with you before buying the truck.
Qualifications
We require a superior safety record and closely examine each applicant's experience and qualifications.
AGE:
Minimum age 23 years old.
EXPERIENCE:
12 months of recent, verifiable, OTR or Regional experience with a semi-tractor
6 months of verifiable flatbed, stepdeck, or lowboy trailer experience.
Oversize load experience is preferred, but not required. We examine recent, verifiable oversize load experience prior to qualifying new drivers to pull over-dimensional loads and specialized trailers. Our Safety Department qualifies each applicant for specialized trailers and specific oversize load dimensions based on their proven background and recent, verifiable experience.
CDL issued by your home state.
Triples Endorsement and LCV certification are required to pull multi-axle trailer combinations.
SAFETY RECORD:
No more than 3 moving violations during the 36 month period prior to the date of application- or
No more than 2 preventable "at-fault" accidents and more than 1 moving violation during the 36 month period prior to the date of application- or
No more than 2 moving violations and 1 preventable "at-fault" accident during the 36 month period prior to the date of application.
TWIC:
TWIC cards are required:
Click here to find your local TWIC application site
*These are general guidelines for driver qualifications and should not be interpreted as final company policy regarding driver qualifications.